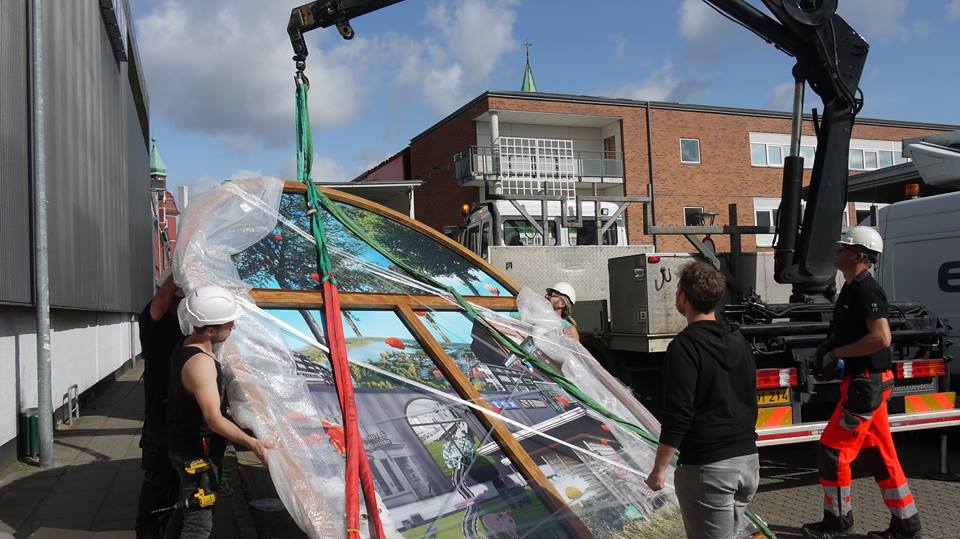 For over 100 år siden lå der her et "afholdshotel" med store trævinduer, der inviterede indenfor. Hotellet blev opført i 1887, og blev samlingssted for de forskellige afholdsloger i byen. Siden har det været benyttet som varmestue af byens arbejdsløse. Og i 1970'erne som samlingssted af de første jugoslaver. Fredensgade har en lang tradition for at skabe ro og give ly, varme og muligheder.
I dag huser Fredensgade en udtjent busstation overfor en mørk mur; hvad har man udsigt til herfra?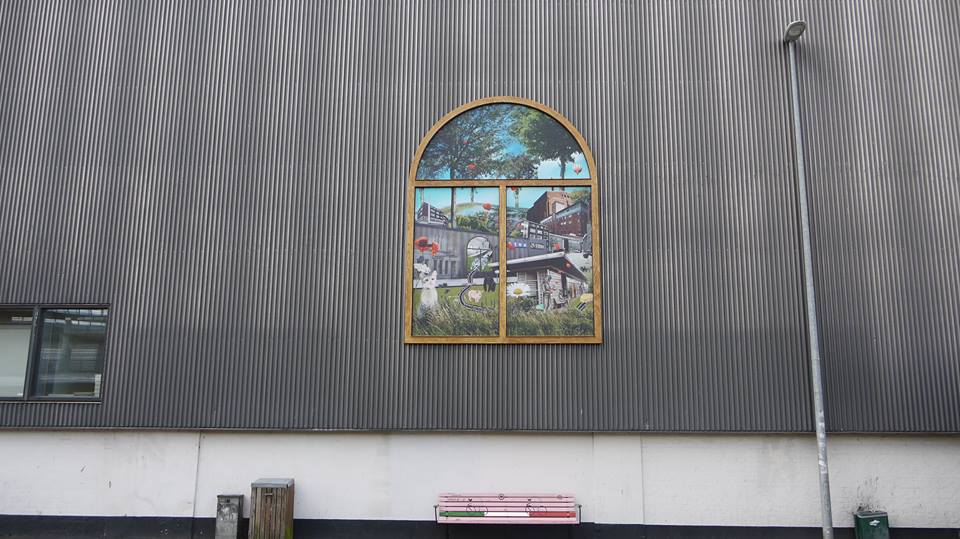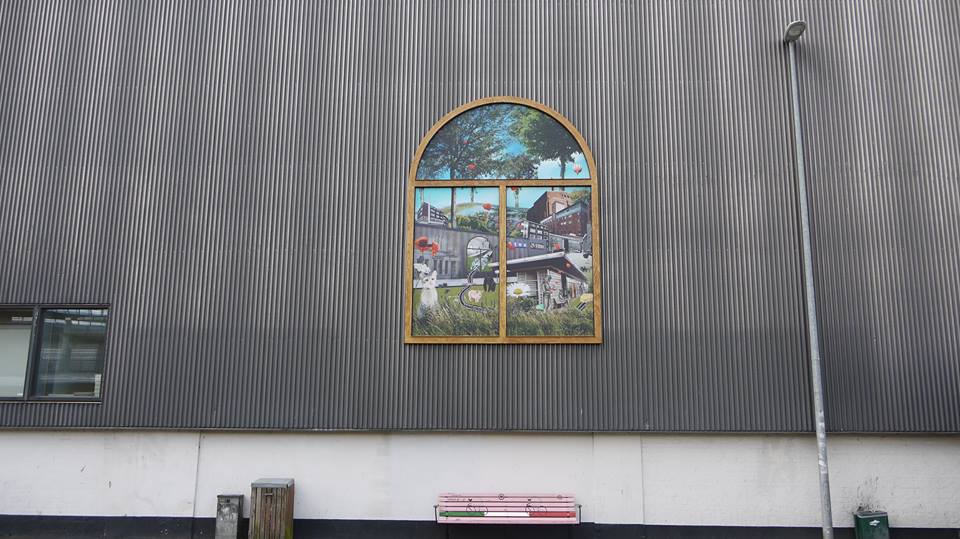 OPENING A WINDOW
"Opening a window" is inspired by a meeting with several people that frequently use Fredensgade as a hangout. It's inspired by the street life here and now. And it's inspired by the history of the street as a busy point for public transport.
Many have taken the bus from here, both adults and children. Some are still there.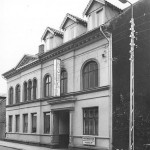 More than hundred years ago, at the spot of our installation, there was a temperance hall with large inviting wooden windows.
The building was from 1887 and was a meeting place for various temperance groupings in the town of Silkeborg. Since then it was used as a shelter for unemployed citizens.
And in the 1970'ies it became a meeting place for the first wave of immigrants coming from Yoguslavia.
Fredensgade has a long tradition of providing peace as the name indicates and giving shelter, warmth and possibilities.
Today, Fredensgade houses a worn-down out-of-use bus station opposite a huge dark wall; What kind of view do you have from here?
When we need to think, we often look out of the window. What if we could create a view through the wall, a window beyond the wall?
A new perspective on an old place. Are we looking out of the window or looking at the window? It's not so important, as long as you see.
Isabelle Reynaud & Kasper Daugaard – Silkeborg, August the 29, 2017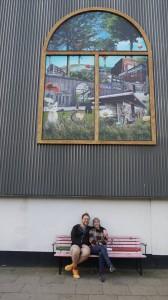 Opening a Window , Graphic Nanna Rosalia , is a permanent installation (3m x 4m), shaped like a window. It is placed in the street called Fredensgade at the back-wall of a supermarket, Føtex in the town of Silkeborg. The frame is made of wood from www.maxmoebel.com and the graphics on the "windowsglass " is printed on an aluminium 3 mm sandwich plate. The shape of this piece of art, is inspired by the windows of the "temperance Hall" a building situated at the very same place in Fredensgade from 1887 – 1972.
Opening a Window is part of Moving Spaces produced by Theater Seachange in collaboration with Silkeborg Municipality.
Moving Spaces supported by: European Capital of Culture Aarhus 2017, Statens Kunstfond,  Kulturudviklinspuljen Aarhus, Knud Højgaards Fund, Spar Nord Foundation, Færchfonden and Familien Hede Nielsens Fond.