★★★★★

 
CAT IN AN EMPTY APARTMENT – a poetry performance based on poems by polish poet Wislawa Szymborska.
Szymborska, poet and essayist, awarded the Nobel Prize for literature in 1996. Born on the 2nd of July 1923 in Bnin near Poznań. Prominent citizen of Kraków, she died there on the 1st of February 2012.
Wislawa Szymborska's poems, which describes all aspects of everyday life from the smallest of things up to big political issues, were a major eye opener for us when we first got acquainted with them .
Based on a selection of her poems from the two collection of poems, A Cat in an Empty Apartment and Lot's Wife, we have created a poetry performance which introduces her writing about life, love, death, terrorism, loss – and preferences.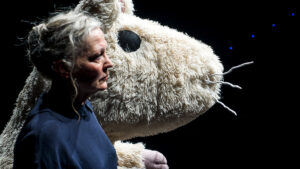 SOME LIKE POETRY – poem by Wislawa Szymborska
Some –
thus not all. Not even the majority of all but the minority.
Not counting schools, where one has to,
and the poets themselves, 
there might be two people per thousand.
Like –
but one also likes chicken soup with noodles, 
one likes compliments and the color blue, 
one likes an old scarf, 
one likes having the upper hand, 
one likes stroking a dog.
Poetry –
but what is poetry. 
Many shaky answers
have been given to this question.
But I don't know and don't know and hold on to it 
like to a sustaining railing.
Produced by Teater9Liv and co-produced by Carbon
Written by Wislawa Szymborska
Concept by : Isabelle Reynaud & Bodil Lassen
Idea and performed by: Bodil Lassen
Directed by: Isabelle Reynaud
Light/sound Design: Ise Klysner Kjems
Stage Design: Kirsten Thomsen
Åbne Scene, Aarhus. 2016, "Oslo internasjonale Poesifestival" 2017 , International Poetry Festival  "Odense Lyrik " 2018,  Bådteatret & Denmark tour 2021
Nominated : SÆSONENS NYE SKUESPIL (EFTER FREMMEDSPROGET FORLÆG) 2020/21 & SÆSONENS KVINDELIGE HOVEDROLLEPRÆSTATION 2020/21:,
CPHCULTURE 2020/2021
ÅRETS NYE SKUESPIL (EFTER FREMMEDSPROGET FORLÆG) 2021;
CPHCULTURE 2021
Supported by Statens Kunstfond/ Danish Arts Council, Aarhus Kulturudviklingspulje/The Municipality of Aarhus , Beckett Fonden, Åbne Scene Aarhus, Spar Nord Fonden, Walt Rosenbergs Legat af 1983 & Embassy of the Republic of Poland.